Journal of American Studies
Description:
Journal of American Studies seeks to critique and interrogate the notion of "America", pursuing this through international perspectives on the history, literature, politics and culture of the United States. The Journal publishes original peer-reviewed research and analysis by established and emerging scholars throughout the world, considering US history, politics, literature, institutions, economics, film, popular culture, geography, sociology and related subjects in domestic, continental, hemispheric, and global contexts. Its expanded book review section offers in-depth analysis of recent American Studies scholarship to promote further discussion and debate. The journal is intended not only for students and scholars, but also for general readers with an interest in the United States.
For current issues of the journal, please visit http://www.journals.cambridge.org/ams
Coverage: 1967-2012 (Vol. 1, No. 1 - Vol. 46, No. 4)
Moving Wall:
5 years (What is the moving wall?)
The "moving wall" represents the time period between the last issue available in JSTOR and the most recently published issue of a journal. Moving walls are generally represented in years. In rare instances, a publisher has elected to have a "zero" moving wall, so their current issues are available in JSTOR shortly after publication.
Note: In calculating the moving wall, the current year is not counted.
For example, if the current year is 2008 and a journal has a 5 year moving wall, articles from the year 2002 are available.
Terms Related to the Moving Wall

Fixed walls: Journals with no new volumes being added to the archive.
Absorbed: Journals that are combined with another title.
Complete: Journals that are no longer published or that have been combined with another title.
ISSN: 00218758
EISSN: 14695154
Subjects: History, American Studies, History, Area Studies
Collections: Arts & Sciences V Collection
Many of us have heard or used the term "Indian givers" without knowing its real meaning. Like most cliches, the words have lost their true meaning. See, in the ancient days, if you looked too many times at another warrior's belonging, he would offer you that item as a gift at the end of your visit, knowing that you wanted it. Then you, the recipient, were supposed to give a gift back of equal value. If you did not, the original giver had the option of asking for his or her gift back, as the trade was not fair. The folks who witnessed this called it "Indian giving" without understanding the full reasons behind the Indians' actions.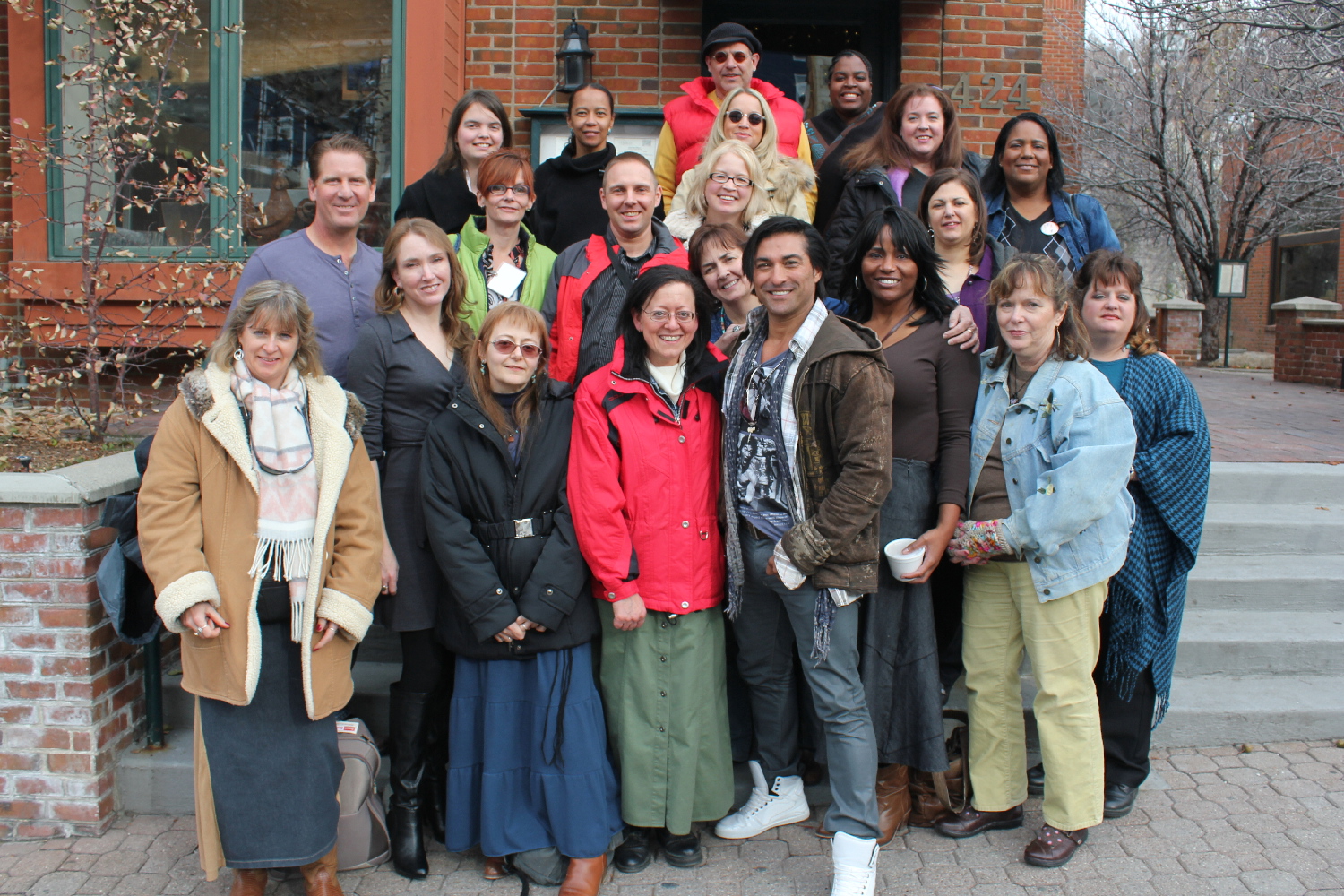 This November, when I showed up in Park City, Utah for the annual Navajo Rug Show that is part of the Adopt-A-Native-Elder Program, I was reminded of the true meaning of the word "giving".
Each year, for the Rug Show, Adopt-A-Native-Elder invites master weavers from several reservations to come and bring their amazing, one-of-a-kind rugs that they have created during the year. No two rugs are the same, and the weavers who practice this ancient sacred art form are all between ages of 80 and 108. A Navajo rug has no borders, so the weaver has to keep count of the threads and her place. How they manage to create such geometric designs that are perfect, at an age when most of our eye-hand coordination is not what it used to be, makes this process even more magical.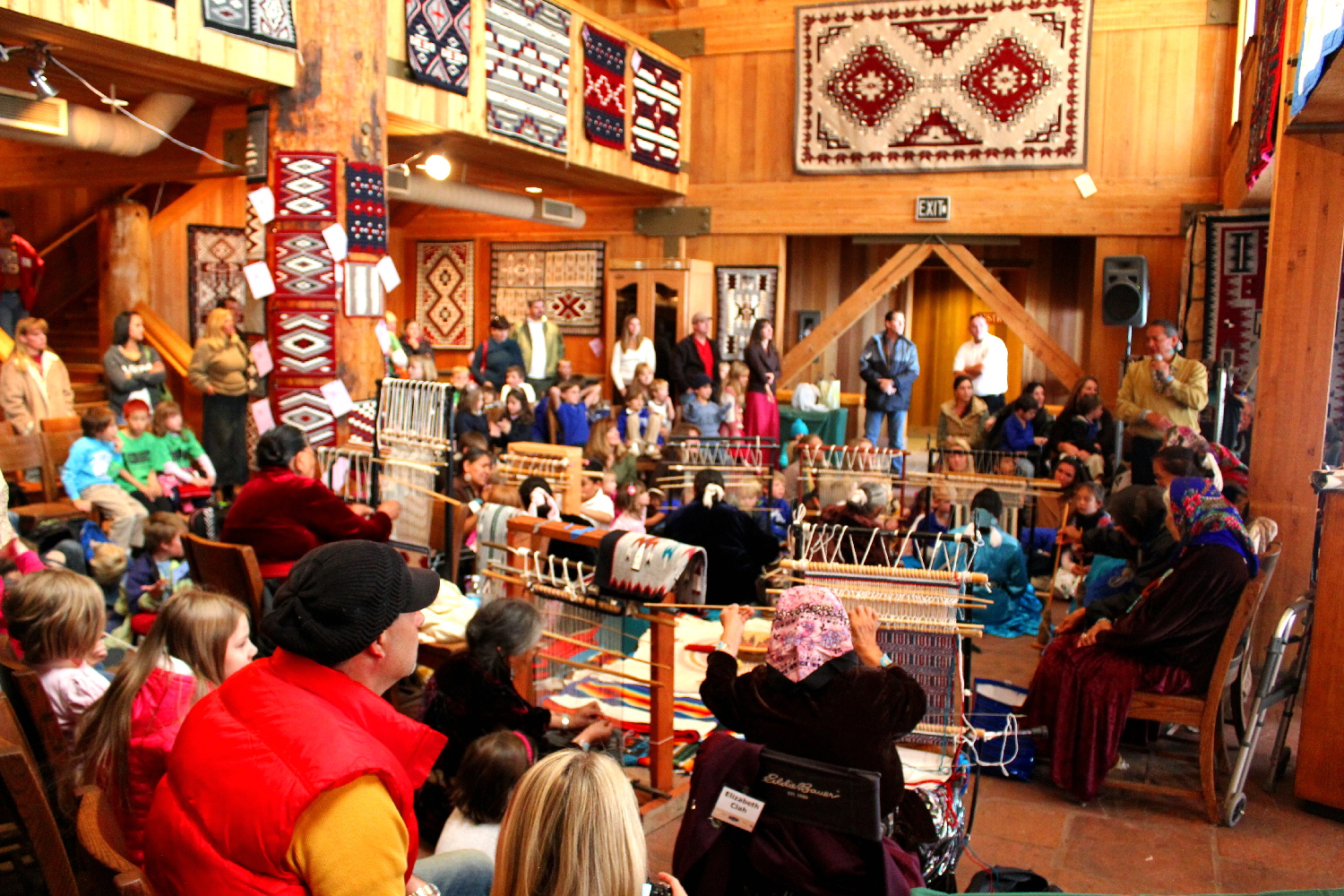 It is said that you are truly giving when you give of yourself, for when you give something you no longer need or that you have ready access to, that is not true giving. As I have written before, I have my own program, "Warming Hearts," that raises firewood money for the Navajo elders so that they can continue their traditional way of life. What was special this year was that my cries for attention, on the radio and in my blogs on the Internet, had been heard by people all over the world. One of the blessings that has come from my actions was the birth of the Spirit Volunteers, as they have come to be known. They came from all over the world to be at the Rug Show and to volunteer their time and help. This was truly humbling and moving to say the least. I was so honored.
I tell people that the annual Rug Show and sale is much more than a trading show, and my Spirit Volunteers show exactly why this is true. The ladies and gentlemen who made the long pilgrimmage to Park City are not wealthy people. Mary saved the money she earned from dog sitting for a year and a half so that she could make the trip.
Giovanna, a nurse from Italy, also scrimped and saved for a year and found the courage to travel alone for the first time to the United States to visit people she has never met! Her friends in the little town of Filo (near Florence) where she lives, came to see her off, some joking with her that maybe she thought she was Marco Polo on one of his expeditions.
Shonda, a big rig truck driver who routinely drives across the USA, drove eight hours straight just to catch a flight so she could be there! Chris traveled from Austria, Dominique from France, and Rosita from Holland. The rest of our group came from Georgia, Arizona, Wisconsin, Virginia, Washington D.C., California, Utah, Pennsylvania, and Los Angeles. All these people took valuable time off work, used their precious vacation time, and spent their own hard-earned money to make a difference.
Twenty-five people from different backgrounds, cultures and nations, made a commitment to come together for a single purpose -- to help the Navajo Elders and to learn from each other. This reminds me of the Hopi prophecies that speak of the rainbow warriors who will rise when the Earth is in desperate need and who will work together to save the planet. These modern-day folks are examples of the real rainbow warriors of the prophecies, each one with his or her own story and sacrifice. As I watched the interaction between the elders and the volunteers, I saw tears run freely from all eyes -- not tears of sadness, but tears of joy -- as the Grandmothers showed their appreciation through simple gestures... a hug, a smile, or a deep conversation in which they shared their Navajo culture and teachings.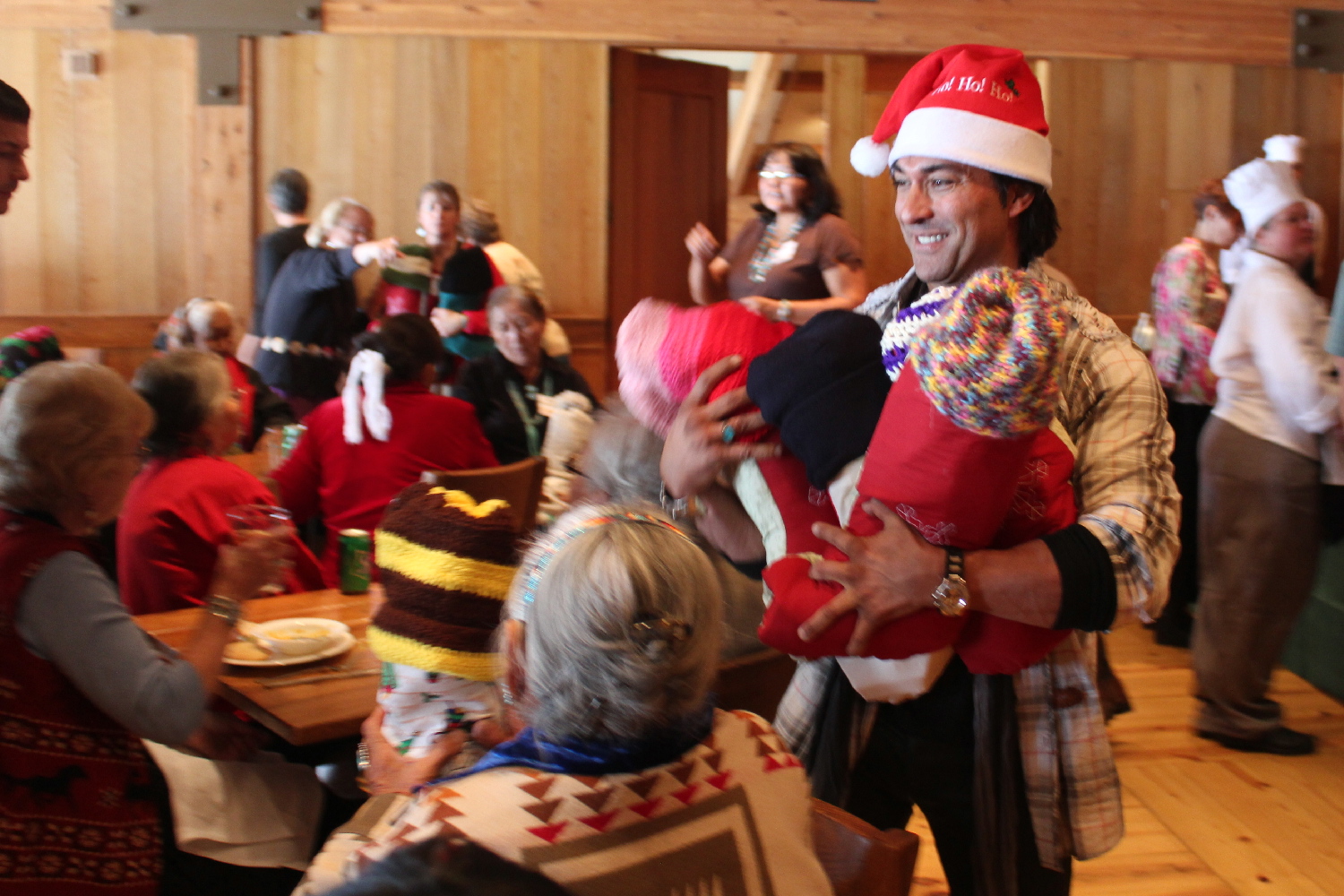 Linda Meyers, the CEO and co-founder of the Adopt-A-Native-Elder Program, was so moved by the international turnout this year, that I saw her eyes well up with tears of joy. For her vision for ANE is to build bridges between the cultures and to mend the broken circles. And here I was helping to build this bridge that more people are crossing each year, for to share of each other's cultures, and to learn and grow, is part of this journey we all call life. I am proud to say we all gave and received; and we raised over $11,000 for our cause, through donations and sales. I encourage all of you who read this to learn more about the Adopt-A-Native-Elder Program, and to join the food runs and the Rug Show which is held each year in November.
In the end, we leave this journey with only our memories and we achieve immortality only by living a life worth remembering. So our code of actions during our time here should be clear. Real Indian Givers give from the heart, expecting nothing in return but the assurance that they will receive somewhere down the road. We have already received a gift of tremendous value from the American Indian people. The truth is, we have yet to give back for what we have received -- or more correctly, took -- from our American Indian elders. And yet we still find these elders open to sharing of themselves and their culture. Let's learn from our elders and keep the circle of giving alive.
I want to thank all of you who have followed me on The Huffington Post for your support and love. I look forward to sharing more of my adventures with you all, including the release of my musical album "Tears of a Shaman" in 2012. Wishing you all a blessed holiday season and a bright new year!
Photos:
Top: Alex van Bubenheim, Salina Andrews-Henley, Rosita van den Burg, Michelle Smith, Corinna van Bubenheim, Tammy Pitts, Nissa Hogue, Robert Doran, Tanja J Martin, Chris Stocker, Cindy Coffin, Dawn Griesbach, Dominique Samy, Margaret Doran, Giovanna Gaddoni, Mary Sorgi, Marsha Madsen, Jay Tavare, Tonya Hogue, Susan Thomas, Shonda Patterson
Middle: Master weaver demonstration
Bottom: Jay plays Santa, handing out Christmas stockings to the Elders.
All images Copyright © 2011 Jay Tavare
Video by Alexander van Bubenheim
Follow Jay Tavare on Twitter: www.twitter.com/JayTavare